One of the hardest things about being a family caregiver is knowing when to step in and help. You want to keep your loved one safe, but you also don't want to leave them feeling disrespected or infantilized. In the early stages of caregiving, many seniors can continue to complete activities independently with appropriate accommodations, including addressing possible accessibility issues involving the floors and stairs.
If you've recently taken on the task of caring for an aging family member, consider these solutions from Centennial Adultcare Center as you assess their needs in the bedroom, bathroom, and kitchen.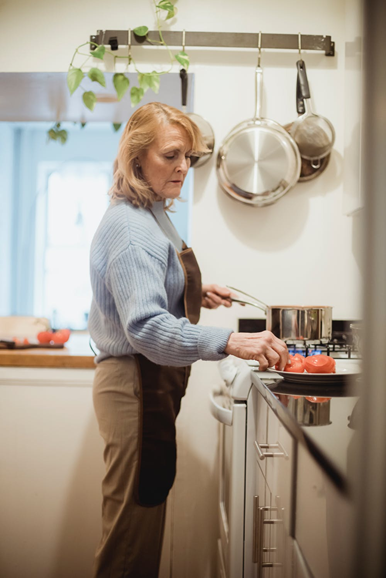 The Bedroom
As mobility declines, seniors may need assistance starting and ending their days. In the bedroom, caregivers may need to help with getting in and out of bed as well as dressing and undressing.
Adjustable beds, also known as hospital profiling beds, make bedtime easier for the elderly. However, there are also less expensive solutions, including grab handles, lifting poles, and leg lifters. Respectively, these tools provide stability getting in and out of bed, help move legs into a lying position, and assist with sitting upright in bed. Depending on a senior's needs, a bedroom setup might include one of these mobility aids or all three.
While mobility aids are useful, seniors require a base level of strength and dexterity to utilize them. If the bedroom is becoming an issue for your loved one, include exercises designed to improve bedtime mobility in your care plan.
Getting dressed presents another hurdle for seniors. From buttoning shirts to pulling on pants, dressing requires a wide range of functional ability. With a mix of adaptive clothing and dressing aids, caregivers can protect their loved one's dignity by making it easier to put on and take off their own clothing.
The Bathroom
If you've ever had a close call in the shower, it may come as no surprise that the bathroom is the most dangerous room in the house. Consumer Affairs reports that up to 80 percent of falls at home occur in the bathroom, often when a person is entering or exiting the tub or shower or moving on or off of the toilet.
Caregivers should install a raised toilet seat with a grab bar to make using the restroom safer and replace loose bathroom rugs with non-slip flooring. In the shower, keep bath products accessible without the need to bend over and add an anti-slip bath mat to prevent falls. Safety rails with textured grips, shower seats, transfer seats, and roll-in showers are also valuable options to make bathing safer and easier for your loved one. A single lever for the faucet is usually easier to turn and operate than two separate knobs, so consider a new faucet head if necessary.
The Kitchen
A nutritious diet is essential for healthy aging, so caregivers should aim to keep the kitchen usable for as long as it's safe to do so. A seated work surface, easy-grab cabinet hardware, and appliances with front controls make the kitchen simpler and safer to use, while working smoke detectors and fire extinguishers protect against accidents.
The way a kitchen is organized also has a big impact on its usability. Heavy kitchenware stored too high or too low could easily cause an injury in a fragile senior citizen, so it's important to organize with comfort in mind. For ideas on how you can make use of roll-out shelves, cabinet organizers, and other accessories to maximize your kitchen's accessibility, read these tips from Houzz.
Paying for Modifications
If some of these modifications are unaffordable, your state may offer grants and financial assistance. Another idea is to refinance your home and use the cash payment you receive to pay for modifying your home. Before choosing to refinance your home, discuss your options with a reputable lender.
Senior needs change with time, and eventually caregivers may need to provide more hands-on assistance with daily activities. However, by making these accommodations at home, caregivers can keep their loved ones feeling independent for longer. Another perk? When your family members can handle routine tasks on their own, you lighten your own workload as well.
Image via Pexels
The trained professionals at Centennial Adultcare Center are dedicated to providing our members with a high quality, innovative, and comprehensive program of social and therapeutic services in a safe and caring environment. Reach out to us today!
Article Contributed by Sharon Wagner