What Is Adult Day Health Care?
Adult Day Health Care is a term that applies to a variety of programs offering services ranging from active rehabilitation to socialization and health related care. Adults who are unable to function at home without supervision or support are most likely to use Adult Day Health Care.
It covers the gap between the loosely structured activities of senior centers and full-time residential care or institutionalization in a Nursing Home. It is for anyone who cannot be safely left home by themselves. Adult Day Health Care can be the most important tool in preventing or delaying institutionalization.
In a safe, caring environment with a proven structured program, that promotes mental and physical exercise, combined with bathroom assistance, transferring assistance, bathing and nursing supervision, much is done to keep the individual living at home and to function as independently as possible.
More With Dignity and Care
We offer a structured day program designed to keep our members active mentally, physically, and socially. We provide group activities, physical and mental exercises, a light breakfast, full lunch with dessert, an afternoon snack, and incontinence care, all in a comfortable, home-like environment. Nursing services are provided for medication administration and ongoing health assessment, as well as development of a multi-disciplinary, personalized care plans for each member. Additionally, round trip transportation (pick-up and drop-off), personal hygiene (bathing, grooming, shaving, oral hygiene) and beautician services (manicure, pedicure, haircuts, and more) are available.
Comprehensive care. Dignity and respect in every smile. 
The question is often asked, "Who should attend an Adult Day Center?" The answer is quite simple: "ANYONE who cannot safely be left alone to manage their time, medication, meals, and activities." Simply put, "ANYONE who cannot function independently on their own" should attend Adult Day Health Care.
Over the past 25 years we have been able to assist more than 500 adults in Nashville, and plan to double that number in the coming 5 years. Whether the issue be wandering or managing medication, the need for socialization or a stimulating environment, the safety of trained staff or the need for a daily purpose, Centennial Adultcare Center has the answers. With our active program and professional staff, you can rest assured your loved one will be active and engaged throughout the day in a safe and comfortable environment, all while being able to return home each and every day.
Memory Loss, Alzheimer's Disease, Dementia, Stroke, Depression, Parkinson's Disease, Epilepsy, Traumatic Brain Injury, Partial Paralysis, Multiple Sclerosis, Muscular Dystrophy, COPD, SchizoEffective Disorder, TIA's, and many more. We are a safe and secure facility which is able to provide are and assistance for virtually any cognitive and physical acuity levels.
Do you worry about leaving your family member alone?
Do you need a break from caring for your family member 24 hours a day?
Does your family member forget to turn off appliances or lose important things?
Does your family member seem confused, even in familiar places or with familiar people?
Does your family member wander?
Do you worry about someone taking advantage of your family member?
Has there been a recent hospitalization and your loved one needs additional assistance?
Have you noticed a decline in your loved one's happiness?
Does your family member enjoy being around others?
Does your family member forget to take medication?
If you answered yes to any of these questions, then the time is NOW.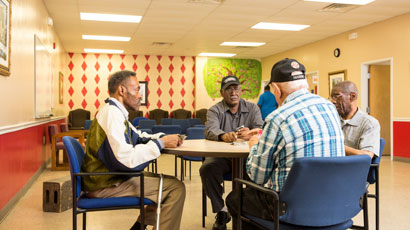 For the caregiver, Adult Day Health Care is a service that liberates them from the daily challenges of caring for their loved one without sacrificing daily contact in the home. Adult Day Health Care is an excellent alternative to institutionalization or being at home alone or with a sitter. It improves everyone's quality of life at a fraction of the cost of a Nursing Home.
Safe, Secure, and Comfortable
Furthermore, we understand the normal desire to be in a comfortable, home-like setting. With this in mind, the Center provides our members with the comforts of home. Our activity rooms are filled with comfortable couches and chairs and our dining room is open and bright with tables arranged to seat four or five people, just like home. We provide stimulating and supportive care in a comfortable, home-like environment.
The question could also be best answered as, Anyone!  We welcome all individuals looking for personalized care, provided by our professional staff. Whether at home or at our facilities, we vow to provide only the highest quality care for all your needs. We offer this service for individuals who are 18-105+ years old. The only eligibility restrictions are the person must not be violent or abusive to themselves or others, be free of infectious disease, and not require continual one-on-one assistance.